Facing a Financially Difficult Time?
It may seem counterintuitive to rush out and purchase software in financially difficult times, but that very action could provide a great pathway to stop spending leakage and rack up the savings in a notoriously difficult category of spending to manage. Complex external labour, services, equipment, and materials are core components of an asset-intensive company, and with these areas often comes a considerable amount of hidden spend.


This is where a Contractor Management Solution (CMS) can provide a great deal of benefit in the effort to reduce spending and gain control over expenses. Purchasing this type of software can help rack up savings in four major areas: time and expense management, unit rate and skill catalogs, equipment and materials, and payment management. This blog post will explore how each of these four areas can lead to savings using a Contractor Management Solution.

Time logging and management is the biggest area in which savings can be realized with a contractor management solution. Average efficiency savings in this one area can range between 8-12% with the software reducing process cycle times as well as errors in both entry and approval. Process cycle times can be reduced through technology enhancement, such as the ability for a supplier or contractor to upload bulk timesheets and manage their hours against a digital schedule.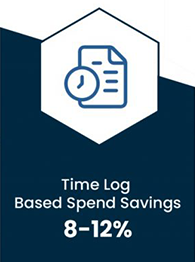 The digital schedule can provide guardrails for entry errors by automatically applying scheduled hours to a timecard, which reduces the amount of entry time to only the exceptions – overtime, special circumstances such as a turnaround skill code change, and weekend hours, etc.


Additional process cycle time improvements can come from digital time exception management that is pre-linked to the correct billing rates, thus saving time in having to manually search for each exception rule and its linked charges. Time and pay differentials between different types of labour can be incredibly costly to manage manually and having a solution in place that automatically applies the correct rates and time exceptions can significantly reduce processing times.


Management in this area is further simplified in the review and approval processes. A Contractor Management Solution can allow bulk reviews and approvals for timecards while separating out the timecards with exceptions, time adjustments, and other special circumstances to be flagged and reviewed individually. This format streamlines approvals and keeps the approvers from skimming through dozens of timecards manually, thus reducing the potential for timecard approval errors. Reduced errors in entry and approval also saves time on the backend in having to submit credit/debit memos for pay corrections, while allowing payments to be made quicker for timecards that are accurate.

Contractor Management Solutions can provide anywhere from 4.5-8% in negotiated and managed cost savings by using digitalized unit rate and skill-based catalogs. When set up and used correctly, digitalized catalogs can be the best friend to busy Sourcing and Procurement departments looking to cut and save costs in the acquisition and management of contractor spend.


For the Sourcing department, cost savings can be achieved using a supplier's historical catalog data – how often has the supplier been used? What services, rental equipment, materials, and labour has the supplier provided and at what cost? How many quotations has the supplier submitted that have turned into catalog prices? Accessing these types of answers in a Contractor Management Solution can provide powerful insights to better equip a Sourcing Manager in negotiations as they are digitally comparing quotations to other suppliers.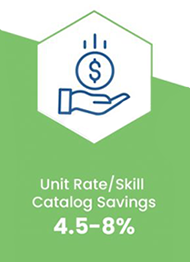 Catalogs can also speed up Sourcing's quotation processes by allowing known suppliers to submit pre-negotiated rates on equipment rentals, materials, services, and labour alongside the newly quoted prices for a package deal. Contractor Management Solutions such as NHD's AES/32 will even allow suppliers to submit discounts against a quotation for advantageous bidding and cost avoidance.


Procurement departments can leverage the same catalog data to achieve cost savings in the negotiated rates year after year. Contract Management Solutions can provide Procurement managers with critical visibility into what is being purchased, how often it is being purchased, and how often the catalog purchases are being submitted with rate exceptions.


This allows Procurement managers to avoid wasting time in negotiations over items that are perceived to have a lot of usage, instead focusing on the catalog items that are racking up the bulk of the purchases. It further empowers Procurement to negotiate discounts for the surprise usage of catalog items that might not have been on their radar in previous negotiations.  In addition to this, using a digitalized catalog can provide controls for accurate billing against contracted rates for a supplier.


Contractor Management Solutions like NHD's AES/32 allows catalogs to be set up for each supplier and type of rate, so that approvals can be automatically applied for catalog items submitted in the billing. This type of setup can also provide process savings by reducing the amount of time procurement spends in reviewing invoices, saving only the non-catalog items for review and approval. Procurement managers can use this in conjunction with real-time analytics that provide insight to accrual from planned to actual costs, allowing more efficient future planning and adjustments.

Streamline Operations Equipment rentals and material purchases are the third major area in which savings can be achieved, totaling a potential for 2-4% reduction in spending through cost avoidance measures. Equipment rentals and subsequent material purchases can account for a great amount of rogue spending if the proper visibility and management controls are not in place, and this is where a Contractor Management Solution can provide the most benefit.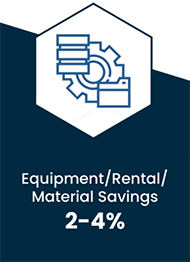 Heavy equipment such as excavators, bulldozers, and scaffolding can be purchased for a project that ends up being extended to other locations or timeframes, which on a small scale can be easy to keep track of. Large enterprise companies may have dozens of projects with these items going on, leading to several instances of equipment that is being rented and now just sitting around accruing charges without any actual use going on.


Contractor Management Solutions can provide the necessary visibility into what is being rented, for how long, and specialized solutions can even provide insights into where all the equipment is physically sitting so that unnecessary rentals and materials are not overlooked. NHD's Contractor Management Solution provides the strongest example of this type of cost avoidance with its scaffolding management feature.


In AES/32, scaffolding locations, cost, and spend can be tracked on a digital map, allowing project managers to see where they might have scaffolded equipment that has been sitting for an extended period without being used. They can then use this to request the services of the supplier to take down the equipment and avoid unnecessary costs.

The final area in which .5-1% cost avoidance can be achieved is through the payment features in a Contractor Management Solution. Sourcing, Procurement, and Maintenance departments can easily be bogged down by suppliers asking their company contacts to track down where their payments are at in processing.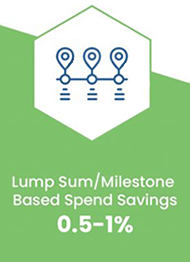 Contractor Management Solutions allow suppliers to see every part of the payment process in real time, which frees managers from having to constantly track down where payments are at. This single process can amount to a great deal of time when conducted manually, depending on how many approvers and steps are in the payment process. Avoiding this type of cost allows managers to be in the field or the office to focus on other work instead of constantly chasing down information for suppliers they want to keep strong relationships with.


Cost savings can also be achieved in a Contractor Management Solution like AES/32 using their unique 'One-Click' payment processing solution. Large enterprise companies often have a long tail of small suppliers they engage for business, and the payment process can easily become a point of contention for these suppliers who are not regularly involved in the company's payment processes.


The One-Click solution allows suppliers set up in the Contractor Management Solution to submit billing against a lump sum or milestone amount in as little as one click. Suppliers love this feature as it reduces administration costs for their billing departments, and buyers love this feature for the simplified billing and payment processes, which can also be managed in an automated way. As mentioned above, a Contractor Management Solution also allows all the smaller suppliers to see where their payments are at in the process without having to chase down information through calls and emails.

Time management, catalogs, equipment rentals/materials, and payments are the primary areas where Contractor Management Solutions can equate to savings through streamlined processes, visibility and negotiation power, and cost avoidance, totaling between .5-25%.


Companies that are strapped for cash can cash in on big benefits through purchasing a Contractor Management Solution and gaining control over this area of spend where there is a notorious amount of process complexity and duplication along with leakage. Take control over this area today and reach out to NHD for a demo on our software and see exactly what it can offer in digitalized efficiencies and management for optimized savings. 
About NHD
For over 20 years, NHD has been providing an intelligent, all-in-one solution that bridges the gap between your company and your external workforce in the full source-to-pay cycle.
Discover how our software is transforming contractor management. Contact us today.
Tired Of The Lack Of Transparency In Your External Spend?
Keep your business running smoothly with transparent labour and service procurement.
Simplify all tasks related to the management of the external workforce.